Mobile tools for product promotion
Keywords:
marketing mix, marketing complex, mobile marketing, mobile marketing technologies, mobile promotion tools.
Abstract
Mobile tools for product promotion play an important role in the marketing strategies of enterprises. The personality and constant presence of mobile devices ensures quick communication with target consumers. Therefore, it is important to study the possi­bilities of using mobile marketing tools to implement the strategic tasks of the marketing mix. The aim of the article is to reveal the role of mobile tools in the promotion of goods and to substantiate the areas of coordination of the marketing mix with the digital capabilities of the enterprise. The research was conducted using methods of analysis and synthesis, empirical, hypothesis testing, system-structural analysis, comparison, and graphic represen­tation. Mobile marketing tools were analyzed, the advantages of using mobile promotion tools for expanding the target audience were revealed. The evolution of the marketing mix has been studied and the connection with alternative components has been established. It has been proven that the adaptation of marketing communications to the approp­riate mobile tools for product promotion ensures the reduction of contact time with consumers and the acceleration of their purchase decisions.
References
Berman, B. (2016). Planning and implementing effective mobile marketing programs. Business Horizons, 59(4). https://doi.org/10.1016/j.bushor.2016.03.006
BMB. (2021). Marketing mix concept (4P, 5P, 7P). https://www.bmb.com.ua/2021/02/4p-5p-7p.html
Data.ai. (2020). The State of Mobile 2021. https://www.appannie.com/en/go/state-of-mobile-2021
Doil, P., & Shtern, F. (2016). Marketing management and strategy. http://196.188.170.250:8080/jspui/bitstream/123456789/1553/1/Peter%20Doyle_%20Phil%20Stern%20-%20Marketing%20management%20and%20strategy-Financial%20Times%20Prentice%20Hall%20%282006%29.pdf
Eze, S. C., Chinedu-Eze, V. C., Bello, A. O., Inegbedion, H., Nwanji, T., & Asamu, F. (2019). Mobile marketing technology adoption in service SMEs: a multi-perspective framework. Journal of Science and Technology Policy Management, 10(3). https://doi.org/10.1108/JSTPM-11-2018-0105
Insider intelligence. (2020). The Majority of Americans' Mobile Time Spent Takes Place in Apps. https://www.emarketer.com/content/the-majority-of-americans-mobile-time-spent-takes-place-in-apps
Investopedia. (2023). Mobile Marketing: Definition, How It Works, and Examples. https://www.investopedia.com/terms/m/mobile-marketing.asp
Kantar Ukraine. (2022). Rating of mobile applications for April 2022. https://tns-ua.com/news/reyting-mobilnih-dodatkiv-za-kviten-2022
Statista. (2022). Number of available applications in the Google Play Store. https://www.statista.com/statistics/276623/number-of-apps-available-in-leading-app-stores
Bondarjeva, Ju. G. (2017). Advertising strategy of the organization. Scientific Bulletin of LNEU, (16), 77-81.
Gorjelova, T. P. Digital technologies: trends and forecasts of the market of modern communication tools. Economics and management: problems, solutions, 5(101), 64-76.
Dybchuk, L. V. (2015). The essence and features of the formation of integrated. marketing commu-nications. Vinnytsia Cooperative Institute. Bulletin of the Khmelnytskyi National University, (5), 58-61.
Dmytruk, M. Strategic marketing: a tribute to the fashion of high concepts or a tool of competitive struggle? Advertising and publicity, (5-6), 32-37.
Kamanina, R. V. Identification and analysis of problems of strategic development of the potential of a trade enterprise. Problems of management theory and practice, (1), 94-102.
Karpenko, N. V. (2016). Marketing activity of enterprises: modern content. Center for educational literature.
Klymchuk, A. O.The modern paradigm of ensuring competitive advantages of the organization. Business-Inform, (1), 221-225.
Matvii'v, M. Formation of digital advertising of enterprises. Collection of scientific papers. Effectiveness of public administration, (41), 252-261.
Skvorcova, N. A. Mobile marketing as a sales promotion tool. Economic environment, 3(13), 54-62.
Solocka, M. O. Modern trends in the market of marketing communications and the potential of mobile marketing. Marketing and marketing research, (5), 430-445.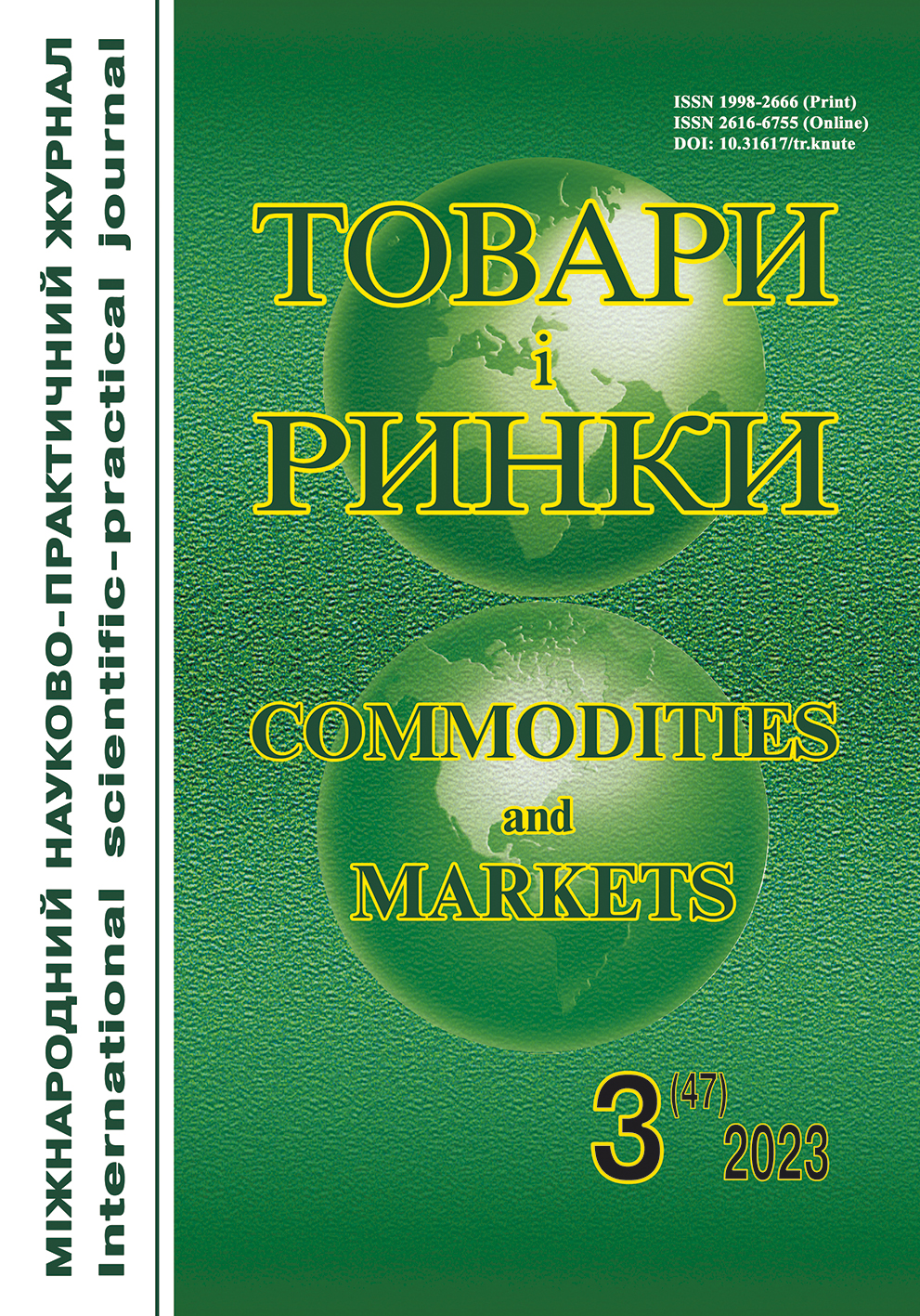 Downloads
How to Cite
KARMAZINOVA, V., & KARKUSHKA, O. (2023). Mobile tools for product promotion. Commodities·and·markets, 47(3), 4–14. https://doi.org/10.31617/2.2023(47)01
Section
MARKET RESEARCHES
License
This work is licensed under a Creative Commons Attribution 4.0 International License.