Ukraine's exports under martial law
Keywords:
export, logistics, intermodal transportation, agricultural goods, martial law, Black Sea grain initiative.
Abstract
Foreign trade is one of the main factors of the country's development, which directly affects its main economic indicators. In the conditions of instability, which are associated with the full-scale invasion of Ukraine by russia, the introduction of martial law, the blocking of the sea and other negative factors, it is important to look for alterna­tive ways of exporting, using all possible types of transport and logistics supply chains. The problem of exporting products of the agro-industrial complex is gaining special relevance, since Ukraine was the world leader in exporting this type of goods before the full-scale invasion. The blockade of Ukrainian ports and the conditions of martial law have led to a sharp increase in world prices for agricultural goods, a decrease in purchasing power and a global crisis that poses a threat to food security in the world. The purpose of this article is to define and generalize alternative logistics routes for the imple­mentation of Ukrainian exports in the conditions of martial law by studying changes in its commodity structure, geography and transport capacities. According to the results of the analysis of the commodity structure of exports and changes in the composition of the main importers of Ukrainian goods it was found that currently the products of the agro-industrial complex are its basis. As a result of the action of the Black Sea Grain Initiative, the main amount of agricultural goods was exported through Ukrainian ports, and its termination poses a threat to foreign trade. New logistics routes using the capacity of all possible types of transport can become alternative options for the export of Ukrainian grain. The search for new logistics routes with the possibi­lity of using railway, road, ferry and sea modes of transport will make it possible to reach the necessa­ry volumes of exports of goods of the agro-industrial complex and reduce the risks that have formed in conditions of instability. The development of inter­modal transportation is the most alternative option from the point of view of logistics, and the use and combination of the advantages of land and water types of transport will contribute to the optimization of the logistical ways of the realization of Ukrainian exports.
References
First ship carrying Ukrainian grain leaves the port of Odesa (2022). https://apnews.com/article/russia-ukraine-middle-east-turkey-istanbul-932888f2e144b61accc855bba49c83cc
Ahn, Soojung, Dongin Kim, and Sandro Steinbach (2023). The impact of the Russian invasion of Ukraine on grain and oilseed trade. Agribusiness, 39.1, 291-299. https://doi.org/10.1002/agr.21794
Ay, H. M., & Söylemez, A. (2023). Grain Corridor Agreement and Turkey's Role in the Russia-Ukraine War. Journal of Islamic World and Politics, 7(1), 1-10. https://doi.org/10.18196/jiwp.v7i1.27
Export value of agricultural products from Ukraine to the European Union (EU-27) from 2015 to 2022 (2023). https://www.statista.com/statistics/876118/ukraine-agricultural-exports-o-the-eu/
Wheat price quotations (2023). https://www.agrolok.pl/notowania/notowania-cen-pszenicy.htm
Regulation (EU) NO 374/2014 of the Еuropean Parliament and of the council of 16 April 2014 on the reduction or elimination of customs duties on goods originating in Ukraine, (2014). https://www.chamber.kr.ua/images/PDF/eur-No374-2014.pdf
Rose, Adam, Zhenhua, Chen, & Dan, Wei (2023). The economic impacts of Russia-Ukraine War export disruptions of grain commodities. Applied Economic Perspectives and Policy, 45, 645-665. https://doi.org/10.1002/aepp.13351
Russia strikes Ukraine's Odesa port in 'hellish' attack after Moscow vowed payback for Crimea bridge (2023). https://www.nbcnews.com/news/world/russia-ukraine-bombing-odesa-port-attack-moscow-crimea-rcna95051
The UN humanitarian aid plan in Ukraine is only 30 percent funded (2023). https://news.un.org/ru/news/topic/humanitarian-aid?f%5B0%5D=date%3A2023-07
Ukraine Data Explorer (2023). https://data.humdata.org/visualization/ukraine-humanitarian-operations/?_gl=1*r4dloa*_ga*MTMyNzg3MzAwLjE2OTA3OTI3NDI.*_ga_E60ZNX2F68*MTY5MDc5Mjc0Mi4xLjEuMTY5MDc5MzI0Ny41OS4wLjA
What will it cost to rebuild Ukraine? (2022). https://www.economist.com/briefing/2022/04/16/what-will-it-cost-to-rebuild-ukraine
Artamonova, G. (2019) Foreign trade of Ukraine with the EU: opportunities and challenges. Journal of European Economics, Vol. 18. 3 (70), 283-295. https://doi.org/10.35774/jee2019.03.338
Geography of foreign trade of Ukraine (2022). https://voxukraine.org/geografiya-zovnishnoyi-torgivli-ukrayiny#
Dashboard regarding the export of agricultural crops (2022). https://export.gov.ua/719-agro-export-2022
Dashboard regarding the export of Ukraine (2022). https://export.gov.ua/722-Dashbord_eksportu_ukraini
The birthday of the "grain corridor" and the day of the end. How Ukraine once again found itself in a sea blockade and what threatens it (2023). https://www.epravda.com.ua/publications/2023/07/18/702321/
State Statistics Service of Ukraine. https://ukrstat.gov.ua
Exports of Ukraine 2022: the impact of the war on geography and sales volumes (2022). https://cid.center/export-of-ukraine-2022-the-impact-of-six-months-of-war-on-geography-and-sales-volumes/
Koliada, O. V., & Raicheva, A. O. (2019) Foreign trade of Ukraine as a factor in the development of international economic relations. Scientific Bulletin of the Uzhhorod National University: series: International economic relations and world economy, Vol. 24, Part 2, (pp.78-82). https://dspace.uzhnu.edu.ua/jspui/handle/lib/25445
Ministry of Agrarian Policy and Food of Ukraine. https://minagro.gov.ua/
"Sailors were replaced by grain workers" How the war and export migration turned the life of the cities on the Danube upside down (2023). https://www.epravda.com.ua/rus/publications/2023/07/11/702085/
Motorniuk, U. I., & Yaremchuk, T. S. (2022). Restoring the export potential of Ukraine in the conditions of war. Economic and legal aspects of management: current state, efficiency and prospects (pp. 174-177).
Ukraine agreed on an alternative grain export route: details (2023). https://tsn.ua/ukrayina/ukrayina-domovilas-pro-alternativniy-marshrut-eksportu-zerna-podrobici-2381656.html
Ukraine called on Poland to lift the ban on the import of Ukrainian grain (2023). https://suspilne.media/533155-ukraina-zaklikala-polsu-znati-zaboronu-na-import-ukrainskogo-zerna/
Ukraine can export agricultural products worth $20 billion - Vysotskyi (2023). https://landlord.ua/news/ukraina-mozhe-eksportuvaty-ahroproduktsii-na-20-mlrd-vysotskyi
Black Sea grain initiative (2023). https://uk.wikipedia.org/wiki/%D0%A7%D0%BE%D1%80%D0%BD%D0%BE%D0%BC%D0%BE%D1%80%D1%81%D1%8C%D0%BA%D0%B0_%D0%B7%D0%B5%D1%80%D0%BD%D0%BE%D0%B2%D0%B0_%D1%96%D0%BD%D1%96%D1%86%D1%96%D0%B0%D1%82%D0%B8%D0%B2%D0%B0
Chunikhina, A. S., & Babets I. H. (2022). Foreign trade as a factor of economic development. Global security and asymmetry of the world economy in conditions of unstable development of economic systems: materials of the scientific and practical conference. (pp. 289-293). Publishing House of the Central Ukrainian National Technical University.
Paths of solidarity: the first step towards the deployment of the European track on the key lines of communication between the EU and Ukraine and Moldova (2023). https://mtu.gov.ua/news/34511.html
How the war changes the structure of Ukrainian exports: the sales of agricultural products and food products are increasing, while the sales of metallurgy are decreasing (2022) https://www.me.gov.ua/News/Detail?lang=uk-UA&id=ff08f227-470b-464e-9d6f-646470b3355e&title=YAkViinaZminiuStrukturuUkrainskogoEksportu-ZrostaiutObsiagiProdazhuAgroproduktsiiTaProduktivKharchuvannia-AMetalurgiiSkorochutsia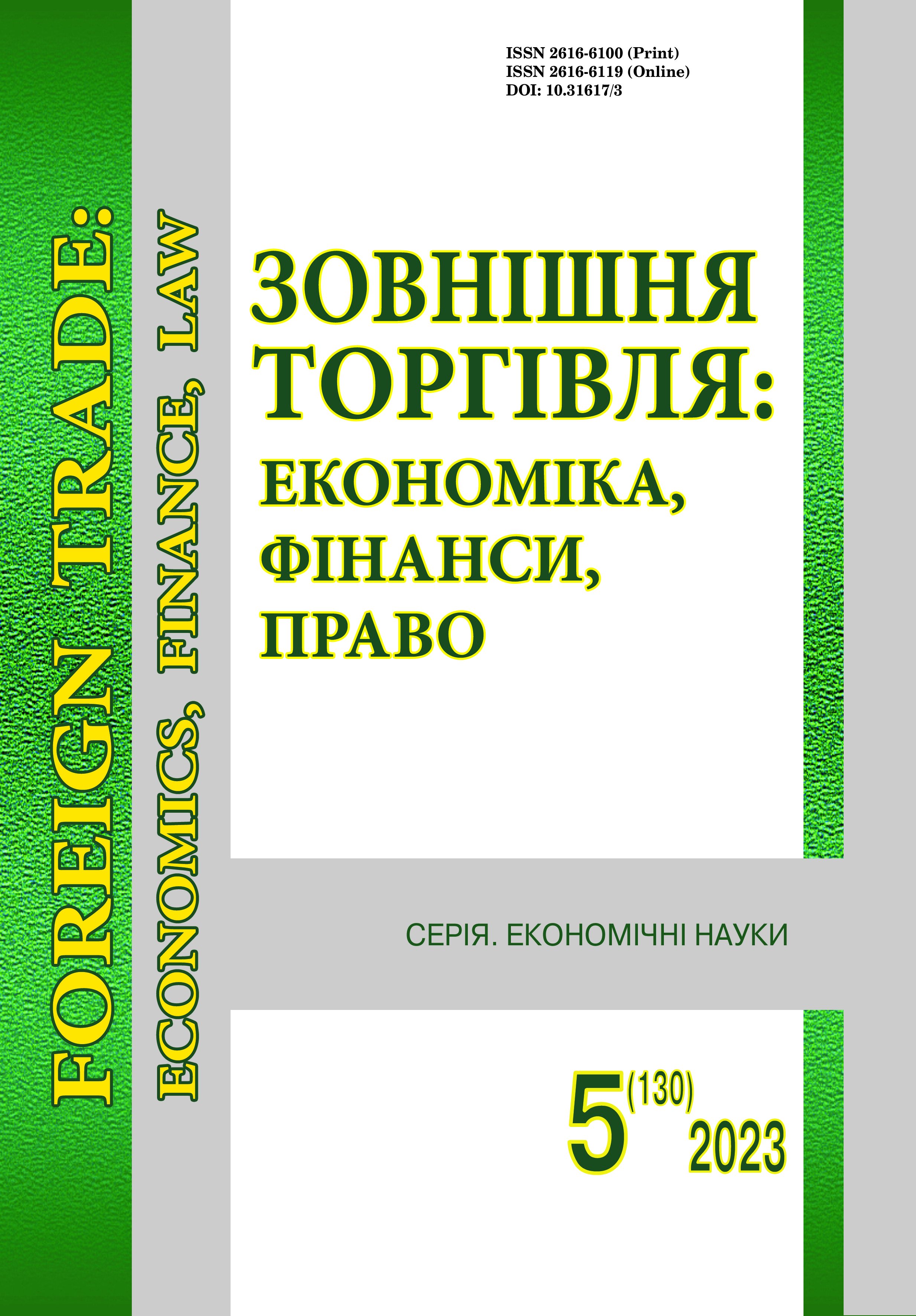 Additional Files
How to Cite
NECHYPORUK А., KOTOVA М., & KOCHUBEI Д. (2023). Ukraine's exports under martial law . Foreign·trade:·economics,·finance,·law, 130(5), 18–32. https://doi.org/10.31617/3.2023(130)02
Section
INTERNATIONAL TRADE
License
This work is licensed under a Creative Commons Attribution 4.0 International License.
This work is licensed under a Creative Commons Attribution 4.0 International (CC BY 4.0)